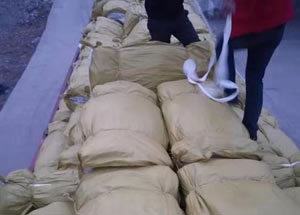 In February late 2019 , the Australia customer consulted the foreign trade specialist of our company about the 1 ton bulk bags , and quickly confirmed the order, and customized the sieve plates of different sizes. After more than half a month of production, the product was shipped to Australi in March.
After the one ton bag arrived at the customer company, the customer was very satisfied with our production process and production speed.
After trial, it proved that our fibc bulk bags is superior in quality to the general bulk bags.
We are also very happy to have a high quality customer.
Contact us to learn more about the benefits of a one ton bag
Please contact our friendly, knowledgeable sales representative for more information. Please provide us with information about 1 ton bulk bags and, in many ways, it can benefit your business.