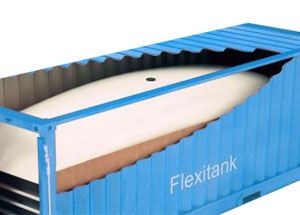 Container flexitank is a new kind of software packaging container which can store and transport all kinds of non-dangerous liquid goods. Each container can be placed in a 20-foot container with a capacity of 14-24 cubic meters and can store and transport up to 24,000 liters of liquid. In the transportation of non-hazardous liquids, it can replace the traditional packaging such as expensive tanks and barrels.
The maximum capacity can reach 24,000 liters, which is about 35% higher than that of barrel-loaded. The freight rates of non-tank and special box are calculated by containers, but only one-way freight is paid. Container flexitank 27 has no empty container return freight and cleaning costs. It can effectively avoid cross-contamination of goods and reduce the cost of handling, packaging and material management. It meets the requirements of environmental protection and food packaging. The raw materials of products meet the requirements of environmental protection and food packaging. Pollution-free is suitable for sea, rail, land transport and other modes of transport.
Container flexitank 27 has been widely used in various fields such as chemical industry, petroleum, food, feed, and agricultural products because of its remarkable economic advantages compared with traditional transportation and packaging methods.