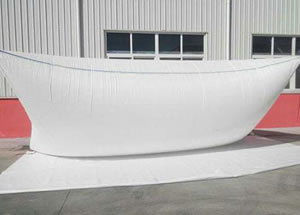 (A), container selection
1, shipped Railway flexitank, must be in good technical condition. The outer wall of the box without advertising insert surface, no obvious deformation and repair weld, the inner wall is smooth and no Burr, the box must be kept clean, dry, box door accessories intact, switch freely.
2, the weight of the container can not be less than 2.16 tons; the container is not high-strength steel box, each door must be equipped with 2 latches ;
3, the container should be less than 3 years of use; over ten years of the box can not be on the railway. Due to the high requirements of the railway transport team box, please be sure to choose the appearance of the non-destructive container when re-election.
4, the consignee is responsible for Railway flexitank unloading and waste liquid bag processing. After unloading, the consignee should be inside and outside the container clean, clear and paste the various signs.
5, Railway flexitank installed liquid, the volume shall not be less than 95% of the volume of the liquid bag, bag, doorstop and the total weight of the liquid must not exceed 21.5 t.